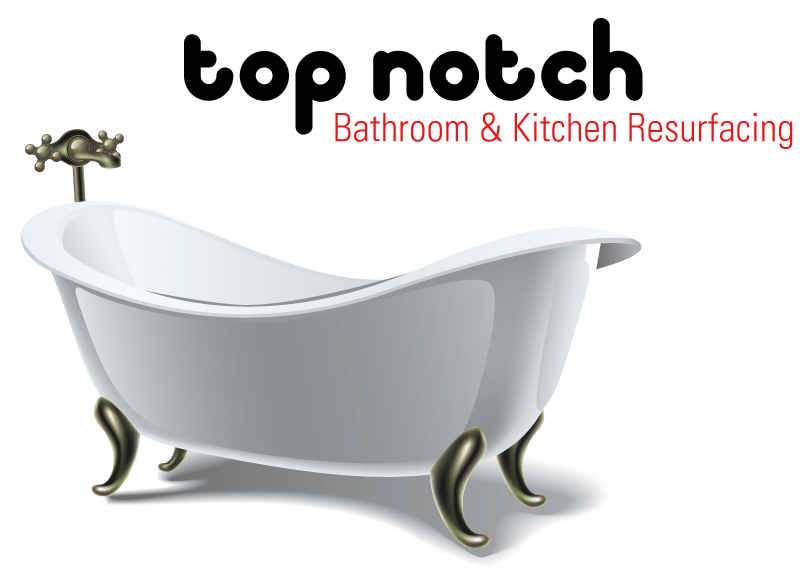 Welcome to Top Notch bathroom and kitchen resurfacing.
Tired of your out dated bathroom or kitchen? Don't replace it when for a fraction of the price you can have it resurfaced.
Resurfacing your bathroom or kitchen offers you a fantastic way to bring life back into that tired outdated look without the hassles of major renovations and endless streams of tradesmen invading your home.
It can be completed in most cases under two days for major makeovers or less than one day for that quick resurface of your bath, basin or shower base.
Darren has over 25 years experience in the resurfacing trade, it's his own business. from initial contact, to quote, to finished product you are dealing with one qualified and reliable tradesman only.
Resurfacing can be completed in 100's of different colours, the only hassle you have is choosing what's right for you!
Help with Colour schemes can be provided if required. We are fully endorsed and approved by Resurfacing Australia.

All work is backed by a 7 year warranty.
Satisfaction Guaranteed!
All our work is done to the highest standards using only the best material at all times, No Comprimes !

Couldn't be happier with the result of the work. Darren is wonderful to deal with and our resurfaced kitchen looks like a brand new kitchen!

Completely satisfied with the resurfacing of our kitchen. Can recommend for high quality work and friendly manner.

Highly recommend these guys. Just had my kitchen done and I absolutely love it. Great communication, friendly team, showed up on time every day. Job was completed within the time frame.

"Amazing result, I have a brand new kitchen!"

"I was very satisfied with Darren and the job that he did resurfacing my kitchen. He was competent in his work."

Trading Hours
8am - 5pm Monday - Friday
Our Office & Factory
Factory 2 / No 4 London Drive 
Bayswater Vic 3153
What we Do
Bathrooms

Bath Tubs
Basins
Shower bases
Vanity units
Wall Tiles

Kitchens

Splashbacks
Benchtops
Cabinets
Doors