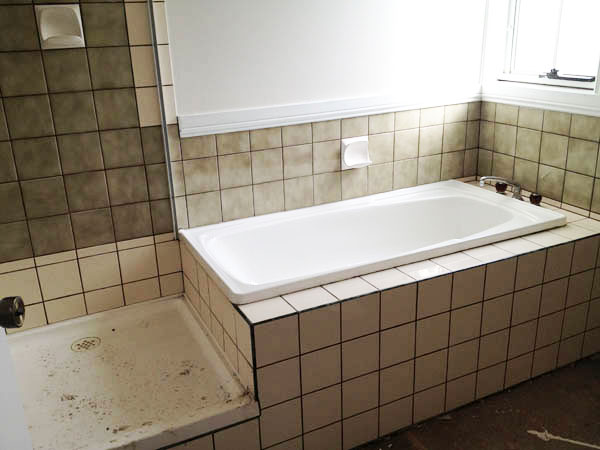 Bathroom Resurfacing
All types of baths, basins, shower bases, vanity units, tiles can be resurfaced.
Most bathrooms can be completed within 2-3 days depending on size. We remove all tapware and any other hardware. All tiles and bath are treated for the resurfacing process with tiles being repaired (where required) and re-grouted. All masking is done to protect existing floors and walls. Resurfacing is sprayed on with an epoxy primer and polyurethane top coat. Detailing is completed with all taps and hardware re-fitted or replaced if required. All silicone work is finished off and your bathroom is ready to use the following day.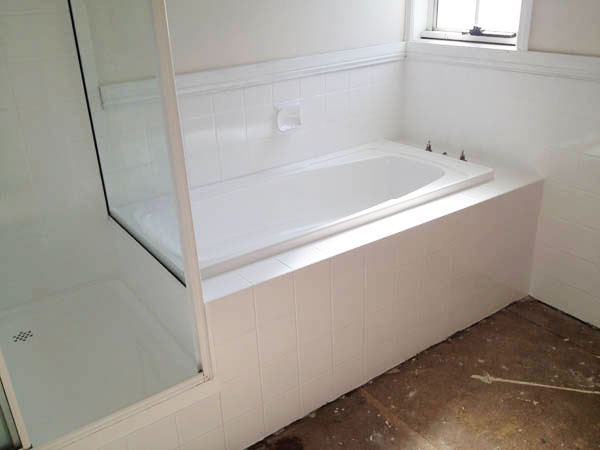 Bathroom Resurfacing
After 
All done at a fraction of the cost of replacing the complete bathroom.
Bathrooms & Kitchens
When damage is scattered over the benchtop, the finish is worn, or a color change is desired, it is more economical and efficient to refinish the benchtops existing laminate. Benchtops can be refinished in a matter of hours without the mess of a replacement job and at significant cost savings over replacement. The longevity of the refinished benchtop should be equivalent to or exceed that of the original countertop. Both gloss and satin finishes are available. Refinished tubs or ceramic tiles can easily last 15 to 20 years or more with proper maintenance. A new porcelain bathtub may last a few years longer, but the cost of replacement is nearly triple what it would cost to refinish. Not only is refinishing more cost-effective, but refinishers are also able to provide extras, such as custom colors. Refinishing is also great for repairing small chips and cracks, making it ideal for fixtures that are otherwise in good condition. Professional restoration companies like Silver Fern Resurfacing guarantee their work, so be sure to ask about warranties when shopping for a refinisher. Replacing old fixtures like the tub, sink and tile can be expensive and difficult. But even if you're remodeling on a budget, you don't have to live with old or ugly fixtures any longer. If the surfaces are made of porcelain, ceramic tile, fiberglass, acrylic, cultured marble or laminate, you can now update your bathroom and save time and money.
Satisfaction Guaranteed!
All our work is done to the highest standards using only the best material at all times, No Comprimes !

Couldn't be happier with the result of the work. Darren is wonderful to deal with and our resurfaced kitchen looks like a brand new kitchen!

Completely satisfied with the resurfacing of our kitchen. Can recommend for high quality work and friendly manner.

Highly recommend these guys. Just had my kitchen done and I absolutely love it. Great communication, friendly team, showed up on time every day. Job was completed within the time frame.

"Amazing result, I have a brand new kitchen!"

"I was very satisfied with Darren and the job that he did resurfacing my kitchen. He was competent in his work."

Trading Hours
8am - 5pm Monday - Friday
Our Office & Factory
Factory 2 / No 4 London Drive 
Bayswater Vic 3153
What we Do
Bathrooms

Bath Tubs
Basins
Shower bases
Vanity units
Wall Tiles

Kitchens

Splashbacks
Benchtops
Cabinets
Doors