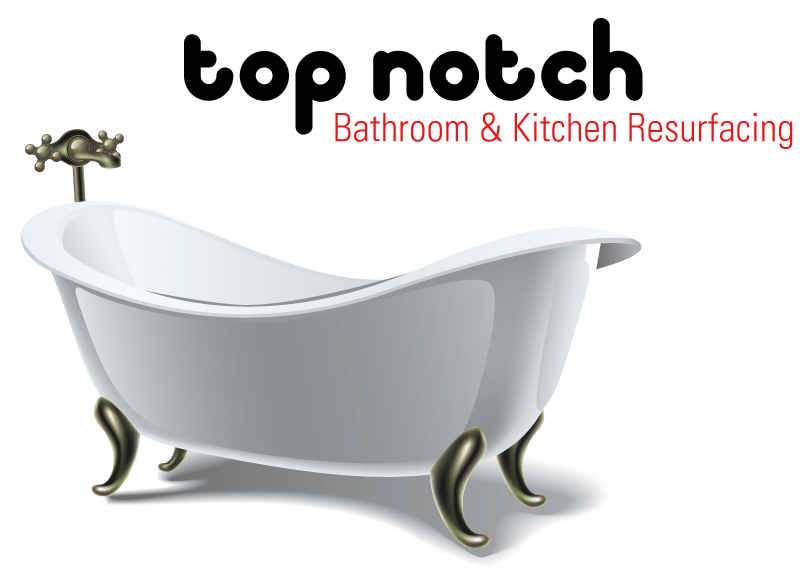 Call Now Darren 0433 613 280
Welcome to Top Notch bathroom and kitchen resurfacing.
Tired of your out dated bathroom or kitchen? Don't replace it when for a fraction of the price you can have it resurfaced.
Resurfacing your bathroom or kitchen offers you a fantastic way to bring life back into that tired outdated look without the hassles of major renovations and endless streams of tradesmen invading your home.
It can be completed in most cases under two days for major makeovers or less than one day for that quick resurface of your bath, basin or shower base.
Darren has over 25 years experience in the resurfacing trade, it's his own business. from initial contact, to quote, to finished product you are dealing with one qualified and reliable tradesman only.
Resurfacing can be completed in 100's of different colours, the only hassle you have is choosing what's right for you!
Help with Colour schemes can be provided if required. We are fully endorsed and approved by Resurfacing Australia.

All work is backed by a 7 year warranty.
Bathrooms & Kitchens
When damage is scattered over the benchtop, the finish is worn, or a colour change is desired, it is more economical and efficient to refinish the benchtops existing laminate. Benchtops can be refinished in a matter of hours without the mess of a replacement job and at significant cost savings over replacement. The longevity of the refinished benchtop should be equivalent to or exceed that of the original countertop. Both gloss and satin finishes are available. Refinished tubs or ceramic tiles can easily last 15 to 20 years or more with proper maintenance. A new porcelain bathtub may last a few years longer, but the cost of replacement is nearly triple what it would cost to refinish. Not only is refinishing more cost-effective, but refinishers are also able to provide extras, such as custom colours. Refinishing is also great for repairing small chips and cracks, making it ideal for fixtures that are otherwise in good condition. Professional restoration companies like Silver Fern Resurfacing guarantee their work, so be sure to ask about warranties when shopping for a refinisher. Replacing old fixtures like the tub, sink and tile can be expensive and difficult. But even if you're re modelling on a budget, you don't have to live with old or ugly fixtures any longer. If the surfaces are made of porcelain, ceramic tile, fiberglass, acrylic, cultured marble or laminate, you can now update your bathroom and save time and money